More important than ever: Artistic freedom and mobility
As March comes to a close, Safemuse looks back at a month where artistic freedom has been celebrated and promoted. A mere week after the violent conflict in Ukraine was evoked, Safemuse organised the Artistic Freedom-week 2022 in order to raise the theme of artistic freedom of expression and free mobility of artists onto the public agenda.
Free Art – Free Movement
On the 4th of March, dozens of Norwegian organisations, institutions, cultural initiatives and artists gathered for the one-day conference "Free Art – Free Movement" (Fri Kunst – Fri Bevegelse) at Riksscenen in Oslo. In their welcoming speech, Riksscenen's CEO / Artistic Director, Ane Carmen Roggen, and Safemuse's General Manager, Jan Lothe Eriksen, underscored how deeply and disturbingly relevant the discussion of artistic freedom and mobility have become in light of the meaningless atrocities unfolding before the world's eyes and the all too evident risks and barriers that confront many artists in Eastern Europe and beyond.
A committed Minister of Culture
In the opening speech, the Norwegian Minister of Culture, Anette Trettebergstuen, spoke of the necessity for artistic freedom of expression in democratic societies today and shared her unwavering support for Safemuse's efforts:
"I cannot think of anything more important than to promote the importance of artistic freedom and to defend artists' right to move and express themselves. It is simply a matter of democracy, the most fundamental thing we have to fight for."
The minister also expressed her ambitions for Norway to take the lead. 
– We must look at how we can make the conditions for development and cooperation across national borders in the world of art and culture even better. Norway to the world and the world to Norway. The world community is fragile [and] this makes it even more important to stand up and work for increased cooperation and contact. 
Norway, Trettebergstuen pointed out, is one of the world's best countries to live in, also for artists. 
– We have good frameworks, good support schemes and we value artistic freedom. And so, allowing international artists to come here to exchange knowledge and experience security, is perhaps more important than ever, she said. 
In her closing statement, Trettebergstuen reaffirmed the Norwegian government's continued commitment to promote artistic freedom and mobility:
– While it is easy to experience discouragement when the world is fragile, this is an effort we must never give up. There is no alternative. Thank you so much for the work you do, it is more important than ever, and I promise on behalf of the government we will support you and work together with you.
The impossible task
The South African-Norwegian artist Nosizwe Baqwa moved the entire audience at the conference. In a powerful spoken-word performance that sent shivers down the audiences' spines, she underlined the indispensable societal contribution of artists, and delivered an emotional appeal for the pressing need to protect and enhance artists' freedoms: 
"…What I know for sure is that artists are best at impossible tasks. 

Artists continue to create because they have to, because they exist in a belief and truth that what they deliver to the world is more important and greater than themselves, that one must not be stopped, one must not be silenced, that which has accompanied humanity since the beginnings, are the rhythms, are the heartbeat, our pulsating inner percussion, it is the tones that hold us together, that created a we, a us, an idea, a thought, a dream, you can not be part of the system who refuse the dreamers to come together, especially not those who are already suffering from the violence of those who want to silence them, silence them to death, you must keep the dreams and dreams alive, because it is we who keep you alive."
– Excerpt from Nosizwe Baqwas piece. (Translated from Norwegian. Read the entire, original text here).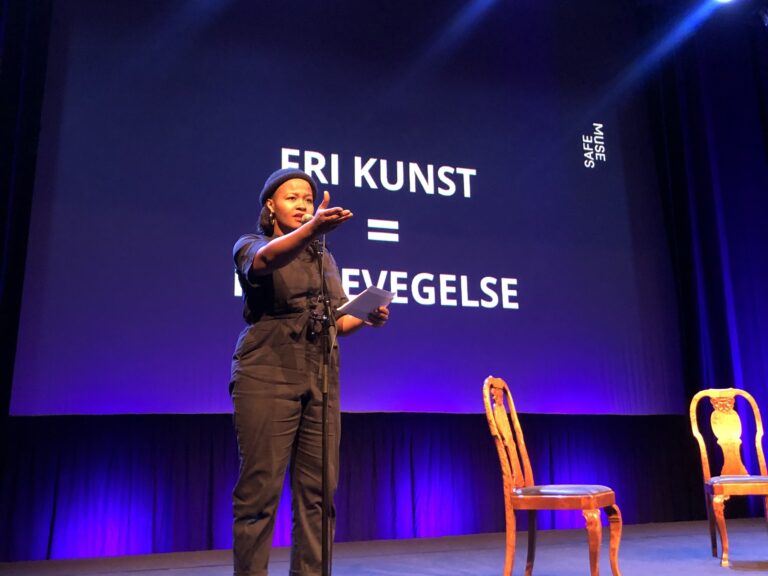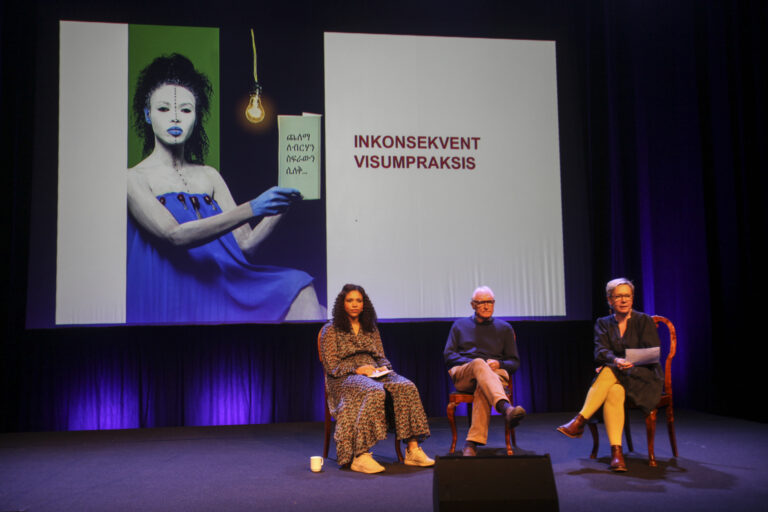 Inconsistent visa practice
The conference included two panel discussions moderated by Ingeborg Moa (Norwegian Human Rights Fund). The first conversation was with Alexandra Archetti Stølen (Oslo World) and Per-Idar Almås (The Førde Traditional and World Music Festival) who shared their reflections and experiences as festival organisers. Thereafter Moa spoke with Ole Reitov (Unesco adviser and founder of Freemuse) and Celina Bright Jerman-Taylor (Safemuse) about the challenges and opportunities with regards to the 2005 Unesco convention on artistic diversity, which Norway has ratified together with 150 other countries as well as the EU.
The discussions were followed by a performance by an anonymous Afghan singer and a mini-concert by the Malmø-based ICORN guest artist, Egyptian oud player and sound-artist Yasmine El Baramawy together with Danish tuba player Rasmus Svale Kjærgård Lund. The conference closed off with an artist talk, organised in collaboration with Riksscenen, Ballade and SalsaNor's initiative Ella, whereby Guro Kleveland, editor of the web-magazine Ballade, interviewed Ayhvin Bruno from Venezuela, Dayami Ross from Cuba and Yasmine El Baramawy.
—
Thank you to our supporters
Artistic Freedom Week 2022 and conference was organised with support from the Fritt Ord Foundation (Stiftelsen Fritt Ord) and the Norwegian Culture Council (Kulturrådet).
We extend a special thanks to all the participants, the engaged audience – both physical and digital -, and our partners Riksscenen, Ballade and SalsaNor.