FIGHTING FOR THE RIGHT TO WORK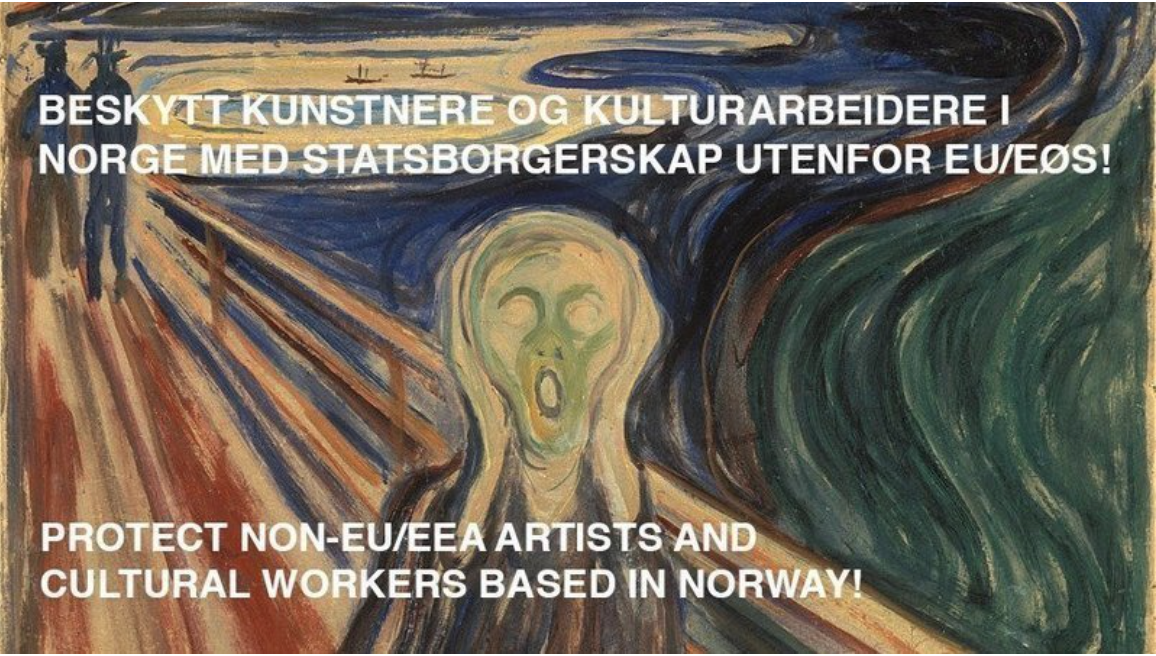 NON-EUROPEAN ARTISTS COME TOGETHER IN TIMES OF TROUBLE
There is no doubt that Covid-19 has put the culture sector in a state of crisis. Tours have been cancelled, concerts are a no-go and the internet has been flooded with free live shows for- and by all. In Norway, many residents are eligible for some type of support, either through social services or via new grants and funds aimed at artists and cultural institutions effected by the pandemic. A last option is to find alternative employment.
A group that has an entirely different set of challenges is the non-EU/EEA artists that live and work in Norway. They too, have lost a large amount of work, but due to their status as specialized workers, they cannot take any other kind of job to support themselves during this crisis.
Acting on some of these growing frustrations, Norwegian-based visual artist Rodrigo Ghattas-Peréz (Peru) and Gabrielle Paré (Canada) has created a support group for non-European artists based in Norway. The effort has led to a petition signed by over a thousand artists, calling on the Norwegian Government and political parties to take action.
Safemuse believes that access to employment opportunities is a fundamental right that should be granted to everyone – regardless of national affiliation. These artists should have the same right to work as professionals and present their artistic expression to the public as Norwegian and EU citizens has.
The petition states that:
«The economic situation created by COVID-19 has left many of us without work, and no opportunity to seek alternative employment. This is compounded by the fact that most of us cannot access unemployment benefits, temporary income protection (midlertidig inntektssikring), and economic social assistance. Those who apply for social assistance put the renewal of their residence permit at risk.»
The group has listed a series of demands that can solve the situation – although no response from the government has been given this far. Continuing their work, the Non-European artists based in Norway are calling for more artists to tell their stories, and working with creating a network of artists throughout the country.
Read the petition here