Music Freedom Day 2019: A CELEBRATION OF ARRESTING MUSIC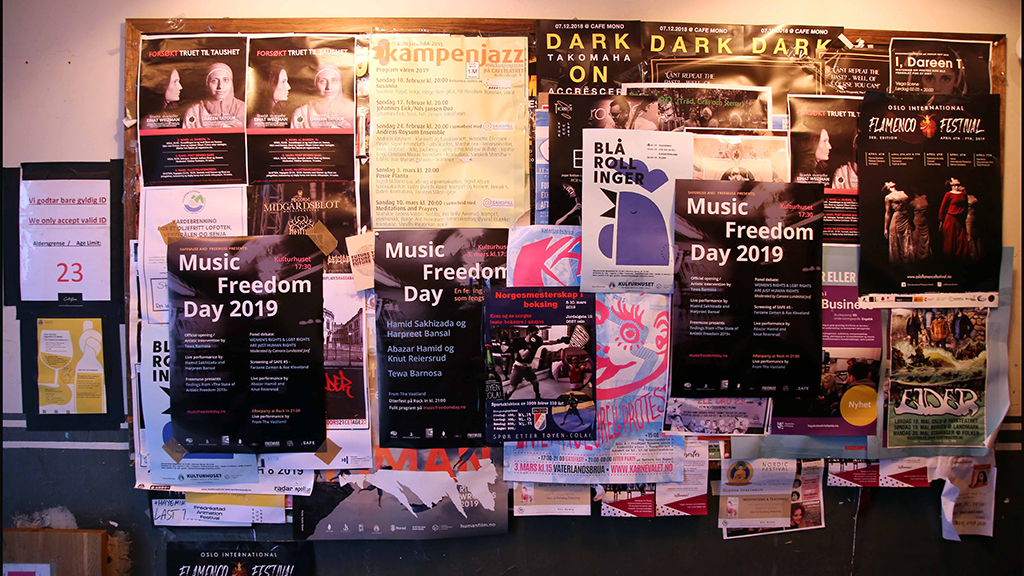 SafeMUSE is joining forces with Freemuse for the Music Freedom Day event in Oslo 3 March, and together we are inviting for a full afternoon/ evening program at Kulturhuset and Rock In, Oslo, celebrating artistic freedom.
The artistic program includes the major Afghan Hazara artist Hamid Sakhizada and the Oslo based North Indian classical violinist Harpeet Bansal together on stage for the very first time; Sudanese peace singer Abazar Hamid and legendary Norwegian blues guitarist Knut Reiersrud presenting music from the LIDIO-release We Need Peace; and Libyan visual artist and curator Tewa Barnosa presenting her work live.
Seminar: In addition Srirak Plipat, Executive Director, Freemuse will present some major finds in the upcoming Freemuse report 'The Status of Artistic Freedom 2019' and also facts from the report published last autumn, 'Creativety Wronged: How women's right to artistic freedom is denied and marginalised'. This will be followed by a panel discussion on WOMAN'S RIGHTS & LGBT RIGHTS ARE JUST HUMAN RIGHTS. The panel: Dounia Benslimane, Director of Development & Partnerships, Racines (the Moroccan NGO ordered by court to dissolute); Tewa Barnosa, artist, curator and gallerist; Alexandra Archetti Stølen, Festival Director, Oslo World; and Jude Dibia, Nigerian author and former ICORN writer-in-residence in Malmö City; in addition to Freemuse's Srirak Plipat.
.SAFE: The event concludes the SAFE video-series with the launch of SAFE video #5, and presentations of the other videos as well.
The afterparty at the club Rock In presents Iranian black metal artist and former SafeMUSE residence artist Sina and his band From the Vastland.
More information and full program at www.musicfreedomday.no
Organized by SafeMUSE and Freemuse. Supported by Fritt Ord, Bergesenstiftelsen, CREO, NOPA and The Norwegian Society of Composers. The afterparty is organized in cooperation with Inferno Metal Festival.