NPA's Solidarity Conference 2018: "Activism - from engagement to change"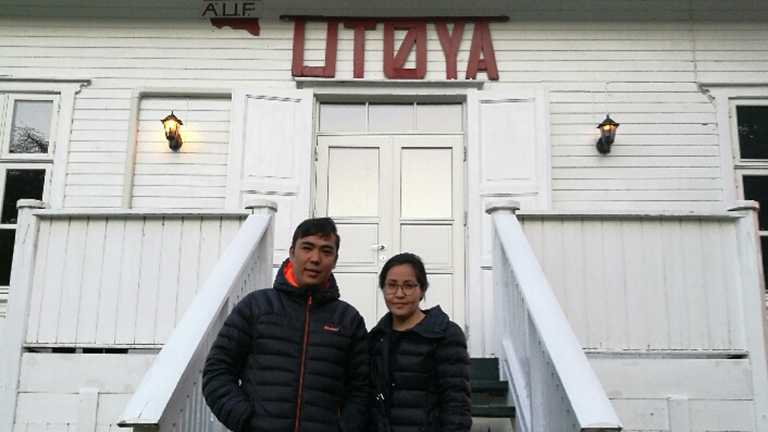 Last weekend young solidarity workers of the Norwegian Peoples Aid was gathered at the annual youth conference at Utøya to learn and discuss how to take activism from engagement to creating actual change. Harstad's Safe Haven Artist and Afghan traditional music star Hamid Sakhizada and activist wife and festival initiator Maryam Sharifi was invited to inspire and talk about their work, together with Jan Lothe Eriksen from SafeMUSE. Hamid talked about Hazara music, the problems related to being a Hazara celebrity in Afghanistan and how to secure the Hazara traditional music and culture in todays Afghanistan. Maryam was asked about her work with the Simorgh Theatre project raising awareness on human rights, women's and minorities' rights through theatre, and also the development of the annual A Night With Buddha Festival. The festival was set up in 2012 by Maryam and friends to remember the destruction of the Buddhas of Bamiyan by Taliban in 2001 and the cultural world heritage connected to this. Both also talked about their continuous work in upholding their efforts to document and spread Hazara culture and tradition and also keeping up the Night With Buddha festival both in Afghanistan and also in Norway – from their new home in Harstad, Norway. The conversation was led by journalist Anne Gerd Grimsby Haarr.
The Friday evening was closed with an engaging concert by Hamid Sakhizada, ending with Syrian youths dancing to the Hazara music.   
The annual Solidarity Conference is held at the beautiful innland island of Utøya, Tyrifjorden. For many years the site for the summer camp of the Norwegian Labour Party's youth organization AUF, and at the 22 July 2011 the crime scene of the terrorist attack on Norway. 69 people killed and 66 were injured at Utøya, and all together the terrorist killed 77 people (in Oslo and at Utøya). Now Utøya is rehabilitated and is used as a summer camp site and a venue for seminars and courses throughout the year school.