SAFEMUSE RESIDENCE ARTIST TOURING HIGH SCHOOLS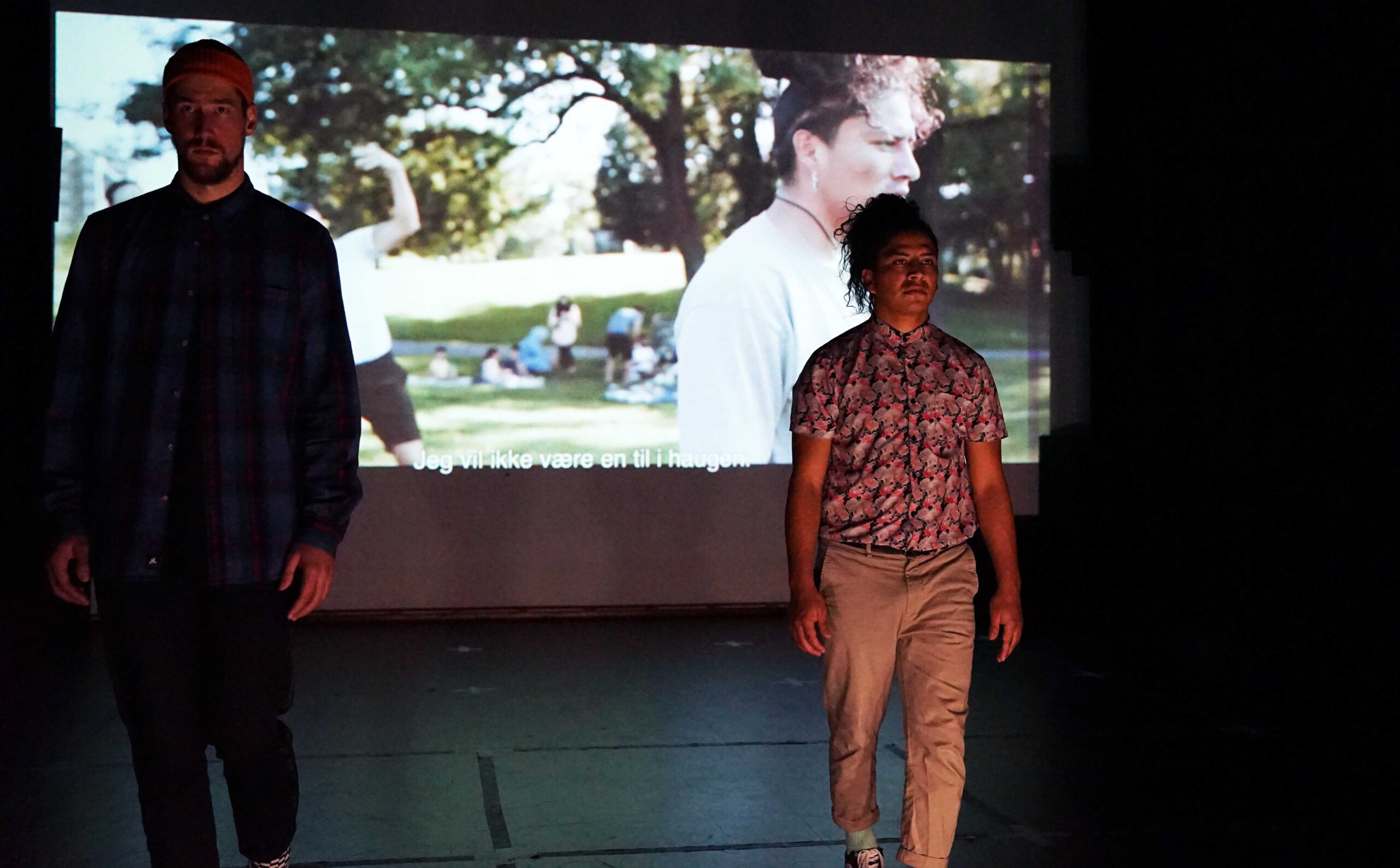 Nicolai López and Carlos "Gato" David Catun Quintana. Photo: Kristian Glomnes/SEANSE
Safemuse residence artist, Guatemalan break dancer Gato (Carlos Catun), together with colleagues Nicolai López and Piero Issa, just finished their premiere DKS (Den kulturelle skolesekken) tour in Trøndelag, "BBoy for life".
The production, a combination of screening of the documentary "BBoy for life", live performance and a following conversation with the studens, was presented for High schools in Trøndelag, Norway. The student's response was overwhelming. The tour had a big impact on everyone involved:
"It's amazing to see the faces of the youths brighten when they see the documentary about Gatos fight for artistic freedom, and realize that they actually get to meet Gato after the film. During the show the students gave full attention to what was happening", comments fellow performer and Safemuse coordinator Nicolai López.
The tour followed a week residence at SEANSE (Senter for kunstproduksjon) in Volda, where the artists together with film maker Fahil Anweri, set designer Even Børsum and director Jon Tombre got to work and prepare the production. The production consists of the documentary "BBoy for life" and an audio visual performance that shows the story after this documentary was made. The show includes a dialogue with the students where they get to reflect and share what they themselves fight for, and get the possibility to ask Gato direct questions.
Experiences from the tour
When the students got the possibility to share what they themselves are fighting for, they presented a series of topics: friends and family, the environment, equality and justice for all, self-determination over your own body, fight against racism and the fight for freedom of expression.
The questions for Gato varied from political questions about Guatemala and Latin Amerika, to what football team he supports. The questions that repeatedly came up were:
How is the crew Gato dansed with in the movie now doing in Guatemala? Are they still dancing?
Do you have any contact with your family?
How can we help?
A lot of tears where shed during the time they spent with the students. If not for Covid19, there would have been a lot of hugs. And not hugging was something the artists found the most hard during the tour.
Gato's message for the students:
"Norway is a land full of possibilities, possibilities for children and youth I never could have had if not coming here. I do hope you see these possibilities and seize them! You can become whatever you want!" 
Carlos "Gato" David Catun Quintana. Photo: Kristian Glomnes /SEANSE
The artistic team:
Director: Jon Tombre, foto/film: Fahil Anweri, scenografi: Even Børsum
Performers: Carlos Catun, Nicolai López, Piero Issa